Welcome to the Town of Carefree

The Sonoran Desert at its finest
October 2023 at a Glance Calendar
| | | | |
| --- | --- | --- | --- |
| Date | Meeting | Location | Time |
| Tuesday, October 3 | Regular Meeting of the Carefree Town Council | Carefree Council Chambers, 33 Easy Street, Carefree, AZ | 5:00 pm |
| Monday, October 9 | Development Review Board Meeting | Carefree Council Chambers, 33 Easy Street, Carefree, AZ | 5:00 pm |
| Monday, October 11 | General Plan Update, Community Workshop #5 | Carefree Council Chambers, 33 Easy Street, Carefree, AZ | 5:00 pm |
| Friday, October 13 | Meet the Mayor-Open Discussion | Carefree Visitors Center, Sanderson Lincoln Pavilion, 101 Easy Street, Carefree, AZ | 9:00 am - 11:00 am |
| Tuesday, October 24 | Skyranch Community Relations Meeting | Carefree Fire Station Community Room, 37401 N. Tom Darlington Dr., Carefree, AZ | 11:00 am |
Featured News
General Plan Update - 60 Day Review
10/2/2023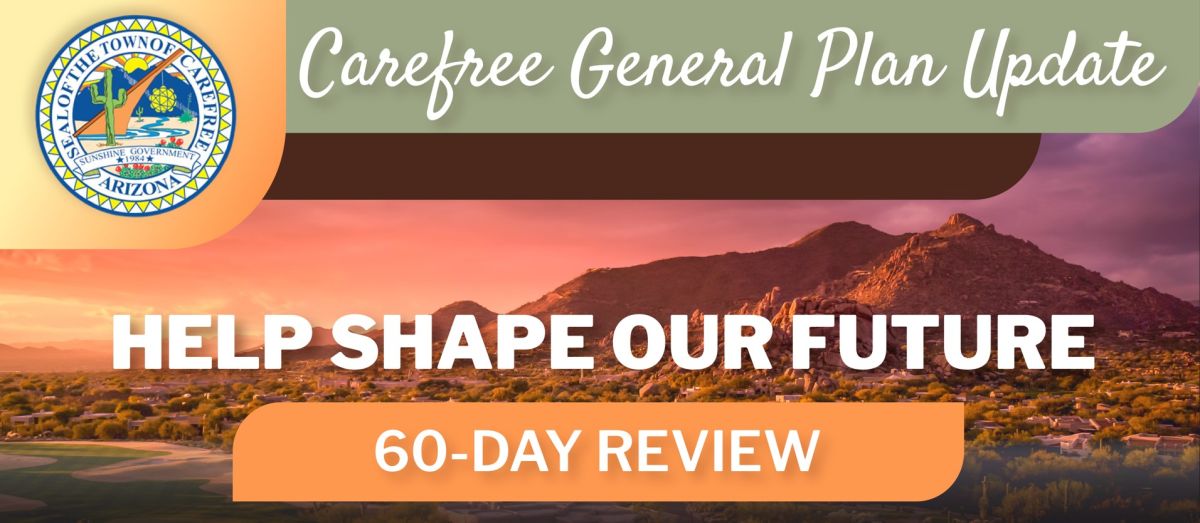 The draft Town of Carefree General Plan is now available for review and comment!
Please review and provide comments via the plan website at https://www.carefree.org/carefree-general-plan-update
The Draft Plan will be available for review and comment from October 1, 2023 to December 1,...
General Plan Update Community Workshop #5
9/29/2023
Please join us on october 11, 2023 for a community workshop to review and discuss the general plan draft:
EVENT: Community workshop #5
DATE: October 11, 2023
TIME: 5:00 pm
LOCATION: Council Chambers, 33 Easy Street, Carefree, AZ
Emergency Notification Registration
9/28/2023
Dear Town Residents,
As we approach another season in our beautiful desert community, it's essential to be proactive in safeguarding our homes and neighborhoods against the threat of wildland fires. Desert wildland fires have the potential to spread rapidly due to our extreme heat, low...